Good Neighbor Hospitality: Business to Business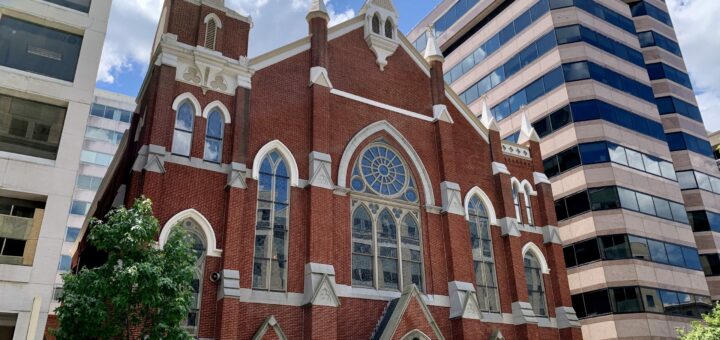 When you look at the landscape of American evangelicalism, our gathering spaces are just as varied as our churches: rural congregations bordering acres of open farmland. Urban congregations in landlocked buildings. Portable congregations renting school cafeterias each week.
We often think of the church as neighbor when it comes to the individuals, couples, and families who populate the neighborhood around us: do they like us? Would they attend? How can we serve them? But let's not dismiss the church as neighbor when it comes to the businesses surrounding (or hosting) our congregation.
If we're going to live hospitable lives during the week – and not just on Sunday – we have to factor in how surrounding businesses feel about our church. Because in their eyes, you're not just a church. You're also an organization that is sharing a common footprint. So how do they feel about you? Would they say that you're a good neighbor? Do they believe that you have their backs? Are you a trustworthy organization that they can depend on, or are you an inconvenient pest that creates traffic jams and doesn't contribute to the local tax base?
Here are five diagnostic questions to see if your church is a good neighbor to your neighboring businesses:
1. Do you know your neighbors?
Can you say you actually know the names of the owners and some of the employees of the businesses that surround your church? Do you use them for oil changes, for haircuts, or for a quick lunch? If you park beside them in a shared parking lot, could you call them by name as you're walking to the building?
2. When is the last time you checked in, for no particular reason?
Rather than only going to them when you need something, have you dropped by the neighboring businesses to say hello? Have you dropped off a cookie tray or a box of bagels with no strings attached? Building bridges is a lot more fun than burning them.
3. Do you ask permission or forgiveness?
If your events spill over into their parking lot or their business hours, do you give them a heads up? Do you work with them in advance to find solutions that benefit both of you? If your church is creating logistical headaches for them, are you being proactive in finding solutions?
4. Do you reconcile quickly?
A few years back we had an event at one campus that spiraled out of control, attendance-wise. We seriously inconvenienced one particular neighboring business, and did triple-duty (in the middle of an already crazy event) to fix the problem to their satisfaction. That act showed we were serious about honoring them.
5. Do your neighbors know you're for them?
If you only have a transactional relationship (i.e., "Can we use your parking lot?"), that's not helpful. Seek to get to know your neighbors, practically serve them, and pray regularly for them. Make sure you're the place where – if one of their employees has a crisis – they'd think nothing of walking down the sidewalk and walking in your door for help.
None of this is necessarily convenient or easy. In fact, as I'm writing these points, I'm convicted of how long it's been since I've shown this kind of intentionality in our own office space. But that kind of hospitality is worth it. Let's work to get to know our neighbors.
---
This is an updated and reworked version of an earlier post, originally published in 2015.