2023 Connections Confab: Apply Today!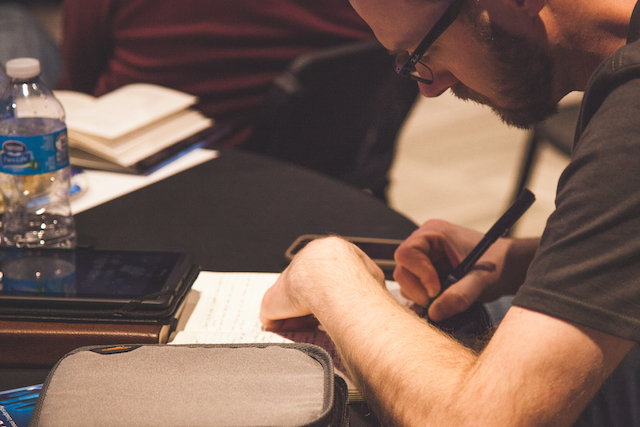 Back in 2015 we launched a coaching network called Connections Confab. Today we count over 75 leaders from Maryland to Mississippi and Nebraska to North Carolina (and all points in between) as part of our Confab alumni group. Confab is a multi-month, intensive coaching gathering focused on improving your guest services culture, volunteer culture, and developing you as a leader.
Confab is coming back for our seventh big year in February 2023, and the application process goes public today.
Here are the quick hits:
Confab is a three-session, on-site networking group that will take place in spring 2023. We go deep (really deep) on topics that are important (really important) to your ministry. You get an all-access backstage pass to in the ins and outs of what we've learned (and what we avoid) at the Summit.
Confab gatherings are two days each: February 1-2, March 22-23, and May 21-22, 2023. All other details for next spring can be found in this handy Confab overview.
APPLY today to be a part of Confab. Because we intentionally keep it small – think 15 or fewer – our application monkeys will go over your info with a fine-toothed comb and let you know the results by mid-December (so exciting!).
If your application is approved, I'll send you a link to officially register and pay. The Confab's cost is $1,400 for three on-site meetings. (Similar coaching networks can cost upwards of three times as much, so you get a ton of proverbial bang for your buck.)
Confab is part coaching group, part collegial network, part learning lab, and part round-table consultation. Leaders from across the country have joined us in the past to discuss the highs and lows of local church ministry. No topic in the realm of guest service, volunteer strategies, covenant membership, or leadership development has fallen by the wayside.
Here's what some of them have had to say:
As a young pastor at his first church, Confab was incredibly impactful. This intimate environment allowed for great discussion with ministry leaders from across the country. In many ways this event is a great retreat for ministry leaders. – Aaron Smith, Senior Pastor, Kenansville Baptist Church, Kenansville, NC (Confab '22)

I cannot speak highly enough of my experience at Confab! The connections I made with other church leaders (specifically excellent women & men in ministry who understand the role of Guest Services) is unmatched to any other experience I've had. It is so wonderful to now have a network of friends to reach out to, bounce ideas off each other & encourage one another. You WILL NOT regret your time at Confab! – Abby Wilson, Director of Guest Services, New Vision Baptist Church, Murfreesboro, TN (Confab '22)

Confab was a unique, amazing experience! It has impacted me and the ministry I serve in probably more than any other tools or resources I have invested in over the last 15 years as a pastor. The Summit team is serious about equipping other leaders to go to the next level in their ministries and being multipliers for the Kingdom of God. – Aaron Wetherald, Administrative Pastor, Eastlake Community Church, Moneta, VA (Confab '22)

Confab was the connections and guest services leadership experience that I wanted and needed! It has been incredible learning from this team and connecting with leaders across the nation. – Christy Burke, Director of Connections and Guest Services, Bridgeway Church, Oklahoma City, OK (Confab '20-'21)

I have grown more in my understanding of my job from my Confab experience than from any other resource I've found. – Sarah McCarthy, Connections Director, Aletheia Church, Cambridge, MA (Confab '18)

Confab was an incredible and worthwhile investment into me personally as a ministry staff member. Not only that, but the things covered will help our local church move forward with excellent connections efforts. – Eric Clark, Adult Spiritual Formation Minister, Stonegate Fellowship, Midland, TX (Confab '15)
So now what?
If you're ready to toss your hat into the ring, apply here. All applications are due by December 8, 2022. 
(And by the way…you may have specific questions on whether this is a good investment of your time or budget. I'm happy to talk…let's set up a time!)
---
Want to do Confab but can't commit this year?
Get your name on the list for early access to training dates!