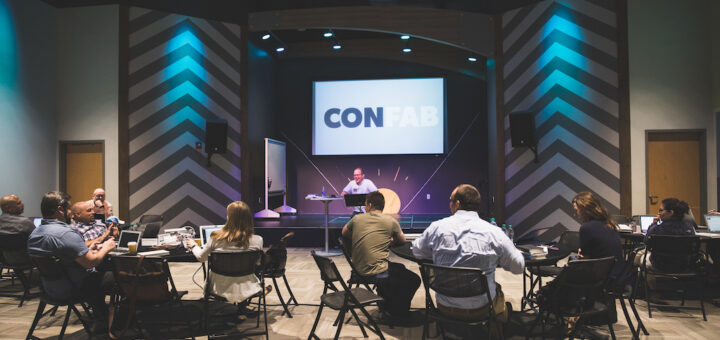 Connections ministry. A generation ago, the term didn't exist in churches. Oh, we had it, whether you called it discipleship or church training or by some other descriptor. But today, you can barely throw a rock without hitting a church that has a connections ministry or a connections pastor.
But what should a connections ministry do, and how should they do it? That's what our current generation of churches is constantly defining. Whether you count connections as the umbrella over evangelism, guest services, discipleship, small groups, or volunteer culture, you have to define what you're doing and how you do it better.
That's the reason for the Connections Confab. Whether you're brand new to your ministry position or a seasoned vet, we're providing a common table where big churches, small churches, and in between churches can learn from one another and develop strategies to carry connections ministry forward.
What is it?
Three on-site sessions over a five month span at the Summit Church in Durham, North Carolina, led by Danny Franks, Pastor of Guest Services.
In-depth discussions, coaching, and practical engagement on the following topics:

Guest services. Honoring guests without losing the gospel, engineering your weekend for the outsider, mechanical vs. organic hospitality, creating and protecting your church's guest services DNA, building and casting vision for the "why" behind the "what."
Connected to committed. Planning for the second visit, developing next steps, covenant membership, strategies to help newcomers.
Volunteer culture. Identifying, inviting, training, and keeping volunteers, preventing vision leaks, micromanagement vs. quality control, structuring your teams for success.
Leadership development. Raising up high-capacity volunteers, leadership pipeline, giving away good people, defining and adding to your connections staff team.
Your stuff. The best training will come from each other, as we explore the current struggles and successes in your local context.
Who should come?
Full-time ministers who consider guest services, volunteer ministry, or covenant membership their key areas of focus.
Part-time or intern staff who are struggling to keep their heads above water and need to get the right tools in their tool box.
Senior pastors who don't know exactly what this should look like in their churches, but know it's not currently happening.
Multi-site church leaders who are building the airplane while it's in the air, and trying to keep their ever-growing systems under control.
Leaders of ministries like kids, students, small groups, etc., who want to infuse gospel-driven hospitality into their culture, ethos, and DNA.
Not everybody and their cousin. To keep conversation high and anonymity low, we're keeping the Confab to a dozen people or less.
What do I get?
The Confab requires an investment of $1,200 per person, and includes…
…six full days (three gatherings, two days each, over five months) of practical, targeted, applicable training that will help you grow as a leader and help your church grow in the area of assimilation.
…a new community of friends and kindred spirits from the world of connections ministry. The intentionally small gathering will lend itself to relationships that last long after our final meeting.
…a ton of resources, from books to tools to documents to…you name it, we'll fill your carry-on bag with it.
…a semester's worth of informal coaching and consulting to help with your particular process issues.
…observation of connections events in action, to help you match theory with practice.
…breakfast, lunch, and snacks (lots and lots of snacks) for all days on site.
…a behind the curtain, all-access look at the guest services processes of the Summit Church, a multi-site congregation that welcomes thousands of attendees and hundreds of guests on a weekly basis.
What others are saying:
Where to begin…Confab was an incredible experience and I cannot begin to express how much I grew as a leader during the months we were together.
Beth McClees, Hospitality Director and Ministry Champion (One Harbor Church, Morehead City, North Carolina)
Confab provides a valuable lens through which to examine what you're doing and how you're doing it.
Steven Murray, Director of Communications (Houston's First Baptist Church, Houston, Texas)
I had high expectations for the Connections Confab, but I can honestly say that my expectations were exceeded.
Monty Rivers, Connections Director (Fellowship Bible Church, Roswell, Georgia)
I have grown more in my understanding of my job from my Confab experience than from any other resource I've found.
Sarah McCarthy, Connections Director (Aletheia Church, Cambridge, Massachusetts)
…an incredible and worthwhile investment into me personally as a ministry staff member.
Eric Clark, Adult Spiritual Formation Minister (Stonegate Fellowship, Midland, Texas)
I'd do it again in a minute and recommend it to anyone – any role – that cares about seeing people connected to the local church and its mission!
Tammy Steele, Director of Connections (Calvary Christian Church, Bellevue, Nebraska)
Applications are now being received for Confab 2023! Find out more here. Can't make it next year? Sign up below to be the first to find out about future dates!