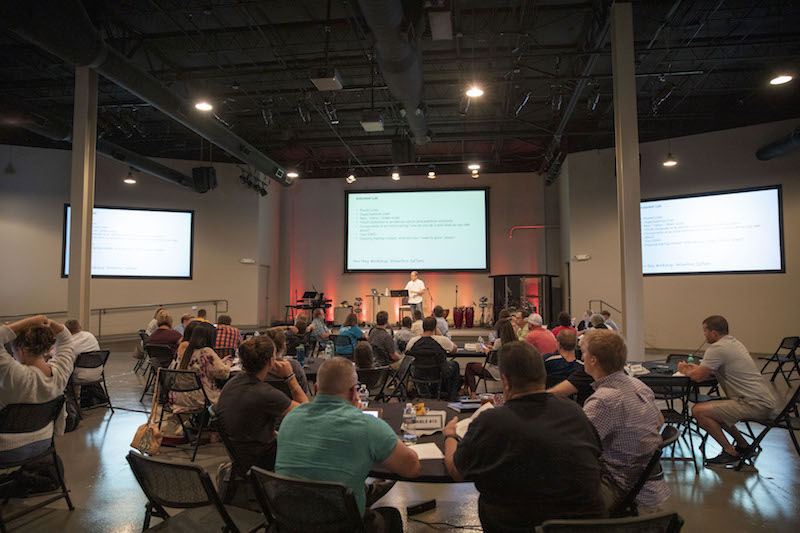 If you're looking for a jump start for your ministry, attending a One-Day Workshop may be just the thing you need. We'll take one specific topic and spend several hours unpacking key things to consider as you get started or continue to improve your existing ministry.
What is it?
A day long on-site session at the Summit Church in Raleigh-Durham, North Carolina, led by Danny Franks, Pastor of Guest Services.
A seminar format that will cover one of the following topics:

Guest services: what it is, why your church needs it, and how the gospel speaks to the way we do it.
Guest services 2.0: new for 2022! Go beyond your Sunday morning team and reset your entire culture. From hiring practices to the lead pastor's office to the sideline congregation member, we'll talk about what it takes to infuse hospitality in every crevice.
After the first visit. Moving your guests from connected to committed, the building blocks of a membership class, and pitfalls to avoid.
Volunteer culture. Finding, training, and keeping those who serve on the weekend.

Workshops are typically scheduled on a weekday from 8:30 am – 4:00 pm.
Who should come?
Anyone who considers connections ministry part of their job description. One-Day Workshops are open to full-time or part-time staff members, ministry interns, and key volunteers.
Teams are strongly encouraged. One-Days are priced affordably, so load up the van and bring multiple members of your staff or volunteer teams.
Anyone who wants to connect. Workshops target a mid-sized audience of 40-80 participants.
What do I get?
Workshops are $99 per person, and include…
…specific training in particular areas, helping you to focus on where you are and where you need to be.
…new friendships from churches of all shapes and sizes.
…practical tools and resources to help you get started.
…meals and snacks throughout the day.
What others are saying:
My time spent in the One-Day Workshop confirmed that when it comes to our Guest Services ministry, we were doing some things right, while we still had opportunities for improvement. If you care about how your guests are treated at your church (and you should), take advantage of this opportunity. – Bruce Crews, Host Team and What's Next Director, The Summit Church, Kernersville, NC
This One-Day Workshop was fast-paced and packed with helpful information. It both painted a vision for connections done well and provided lots of practical suggestions and steps for implementation. I would recommend this Workshop for both staff members and lay leaders who want to take their Guest Services ministry to the next level. – Don Schmidt, Associate Pastor / Connections, Calvary Baptist Church, Winston-Salem, NC
The Connections One-Day Guest Services workshop was a team endeavor. To be able to bring pastors, staff and volunteers to an intimate event has set up our team for success. The Workshop certainly conveys the "what and how," but more importantly conveys the "why?" behind an effective Guest Services mindset and execution. I've never been to an event that helped shape our thinking framework and equipped us with vision like this one has. It was more than worthwhile investment for our team to be a part! – Dr. Matthew Robinson, Connections Pastor, First Baptist Church, Orlando, FL
Read more about our 2023 schedule here.
(Want to be the very first to know when registration goes live? Sign up for updates!)