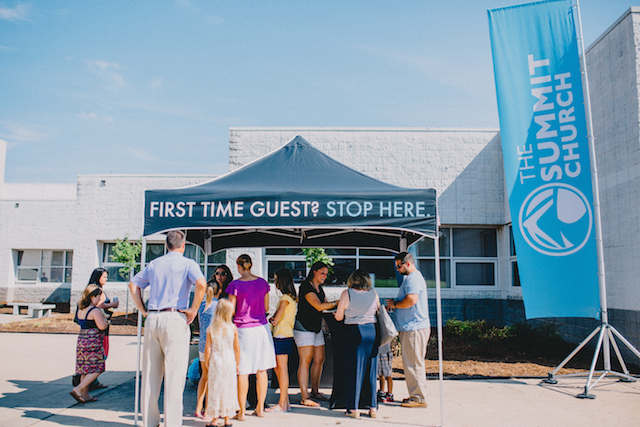 Want to see the Summit's Connections processes in action? Join us for a volunteer training, newcomers event, or worship service! You'll sit in on a First Impressions Training and then stick around for an optional observation of a weekend service.
What is it?
A half day or full weekend at the Summit Church in Raleigh-Durham, North Carolina.
First Impressions weekenders are on Saturdays from 3:30 – 6:30 PM.
Weekenders include an optional stayover to observe a Sunday worship service. (We can help with hotel recommendations.)
Who should come?
Anyone who considers connections ministry part of their job description. Weekenders are open to full-time or part-time staff members, ministry interns, and key volunteers.
Teams are welcome. Feel free to bring your staff or a group of volunteers.
Each Weekender has limited space in order to keep debriefing conversations as productive as they can be.
What do I get?
Because of our desire to bless other churches, the Weekender events are completely free, and include…
…a front-row seat to see the Summit's processes for guests and volunteers.
…a copy of the curriculum we use for guest service teams.
…a time of Q&A to cover additional questions you might have.
What others are saying:
The Summit has a heart for equipping and supporting local churches that is perfectly exemplified in their Weekender event. The Weekender is designed to give you a behind the scenes look at Summit's First Impressions Ministry in action, and is a great opportunity to do some learning and ask questions of Summit's friendly and experienced staff. – Reid Adams, Connections Director, First Baptist Church, Orlando, Florida
When it comes to organizing a team to effectively serve guests and make a great first impression, I often know exactly what I want to see—but then I have no idea how to get there. The Weekender helped clear out the haze and chart that path. [The event] brought clarity, considered and carefully thought out advice, and most of all the "why" behind everything they (and we) do. Rather than rifle off some step by step to rip off their ideas, the Weekender gave plenty of why they do what they do and why they don't do what they don't do. After spending time at the Weekender, I was able to make clearer decisions on what my team would focus on and how we would change lives by changing guest's first impressions. Thank you, Summit! – Josh Allen, Connect Coordinator, Thomas Road Baptist Church, Lynchburg, Virginia
Scheduled dates for 2018. (All dates are subject to change, and should not be considered final until you RSVP.)
January 27
April 28
July 28
October 27
RSVP here, or sign up for email alerts for future dates.