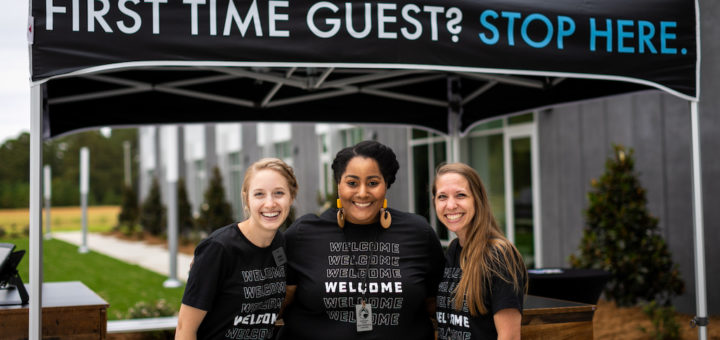 UPDATE: due to COVID-19, all Weekenders for 2020 have been cancelled. Dates for 2021 will be published by mid-fall. Sign up for updates!
Want to see the Summit's Guest Services processes in action? Join us for a volunteer training, campus tour, and a worship service! You'll sit in on a Guest Services Training and then stick around for an optional observation of a weekend service.
What is it?
A half day or full weekend at the Summit Church in Raleigh-Durham, North Carolina.
Guest Services Weekenders are on Saturdays from 3:30 – 6:30 PM.
We strongly recommend an optional stayover to observe a Sunday worship service. (We can help with hotel recommendations.)
Who should come?
Anyone who considers connections ministry part of their job description. Guest Services Weekenders are open to full-time or part-time staff members, ministry interns, and key volunteers.
Teams are welcome. Feel free to bring your staff or a group of volunteers.
Each Weekender has limited space in order to keep debriefing conversations as productive as they can be.
What do I get?
Because of our desire to bless other churches, the Guest Services Weekender events are completely free, and include…
…a front-row seat to see the Summit's processes for guests and volunteers.
…a copy of the curriculum we use for guest service teams.
…a time of Q&A to cover additional questions you might have.
What others are saying:
Regardless of the size of your church, you will come away with valuable insights on how to make the first impressions of your guests a lasting and positive experience. The Weekender is a well thought out experience to make every leader want to step things up and make it better at their church. – Brad Hulcy, Next Steps Pastor, Woodside Bible Church, Troy, Michigan
It doesn't matter if you are just getting started, or already have a guest services ministry, you will reap a harvest of inspiration, ideas, methods, and structure from this amazing event. I've attended seminars for decades, and never attended an event where the facilitator was so open, honest, sharing, and just genuinely GLAD to be doing this. Phenomenal interaction with other attendees, gut-level spiritual evaluation, and awesome transferable ideas and techniques. Please do yourself and your church a favor and attend a Weekender. life changing! – Cary Branscum, Guest Services Minister, Hills Church, Forth Worth, Texas
At first, I was worried that I would not get much out of the Weekender since it was a free event, and I flew in from Michigan. However, I was proven wrong! The training and Q&A were both refreshing and inspiring. The staff was friendly and accommodating. I am glad I went, and I will be back for other opportunities. – Tyler Tran, Guest Services and Children's Director, Grand Rapids Baptist Church, Grand Rapids, Michigan
Scheduled dates for 2020. (subject to change; RSVP here)
January 25
April 25 (canceled due to COVID)
June 27 (canceled due to COVID)
July 25 (canceled due to COVID)
October 24 (canceled due to COVID)
November 14 (canceled due to COVID)
If you'd like to get notifications whenever sign up links go live, fill out the super quick form below: