Danny Recommends: Traffic Cones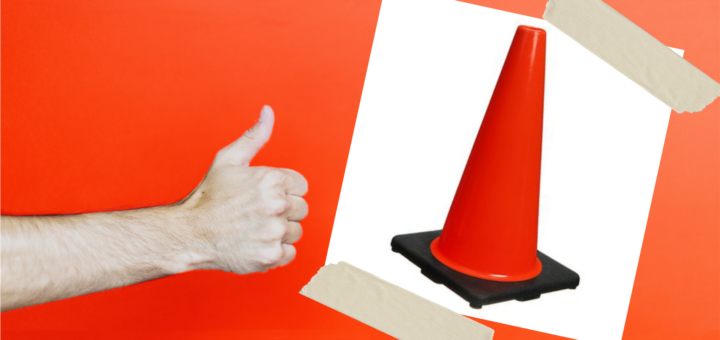 Every so often we dip our toes into a series called Danny Recommends:, posts that tip you off to the stuff that I…you know. The recommendations might be products for use in your ministry, resources that will help you develop leaders around you, or just fun stuff that you need. Want. Whatever. I have a full list of recommended books and such over at the Reading List, but these posts will go into further detail. For other posts in the series, check out the link at the bottom.
---
If you're getting serious about mapping your parking lot, you're going to need to take advantage of the humble traffic cone. Those knee-high orange triangles can direct even the largest SUV. Or take a beating when said SUV driver is texting, fails to see the cone, drives over it, and drags it across the entirety of your parking lot while your parking team volunteer scratches their head in wonder and mutters something about our American highway system going to hades in a handbasket.
But I digress.
We've tried a veritable ton of styles, brands, features, and sizes of cones over the years. Amazon or one of the big-box stores like Home Depot or Lowe's has always been a good resource, but the specific brand and material – especially for Amazon – is always a bit of a gamble.
That's why I'm a huge fan of Seton's Lakeside traffic cones. They're relatively inexpensive, incredibly sturdy, and long-lasting. Here are a few tips from Uncle Danny, who doesn't know a lot about a lot, but I do have strong opinions on cones:
Don't go crazy: the 18-incher is fine. You don't need a bigger one. Your drivers will still see it, and your set up / tear down teams will thank you for it.
Don't fret over the reflective strip. Just how dark is your property, anyway? That fluorescent orange is still highly visible. That reflective strip is just you showin' off.
Don't over- or under-order. Use this post as a guide for how many cones is a reasonable amount.
Now, speaking of over-ordering…a word about Seton and their shipping policies: this ain't an Amazon two day free-arrival-on-your-doorstep deal. Cones can be heavy if you order a bunch, and because "a bunch" usually arrives by pallet, that shipping will set you back a bit.
But because I care for you, my readers, and because I wanted to pretend to be an investigative journalist if just for a moment, I did a little research. As of this writing (April 2023), shipping costs are as follows:
1-10 cones: $9.95 shipping
11-27 cones: $14.95 shipping
28-34 cones: $19.95 shipping
35 cones and above: $245 shipping
Now, I'm not sure what it is with that 35th cone (actually, I am sure. It's the pallet, because #investigativejournalism). And the crazy thing is, it's $245 shipping for 35 cones. $245 shipping for 100 cones. $245 shipping for 1,000 cones. And $245 shipping for 10,000 cones.
So friends, I'm not telling you to game the system. But I am telling you that if you need "somewhere around 30-35 cones," maybe go for 34 and save yourself 225 bucks. Or if you need 50 of 'em, maybe break it up into two orders over a few weeks.
---
---
Disclaimer: FTC watchdogs will probably want to know that the vendors listed / linked above did not ask for this endorsement, nor did they provide me with free swag in order to do so. I'm just a really satisfied fan who wants to let you know about helpful things. I only promote items that have benefitted me and that I believe will benefit you. So there.
---