All Signs Point To…What?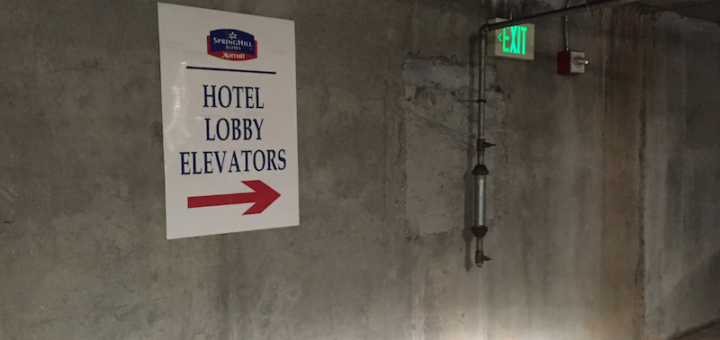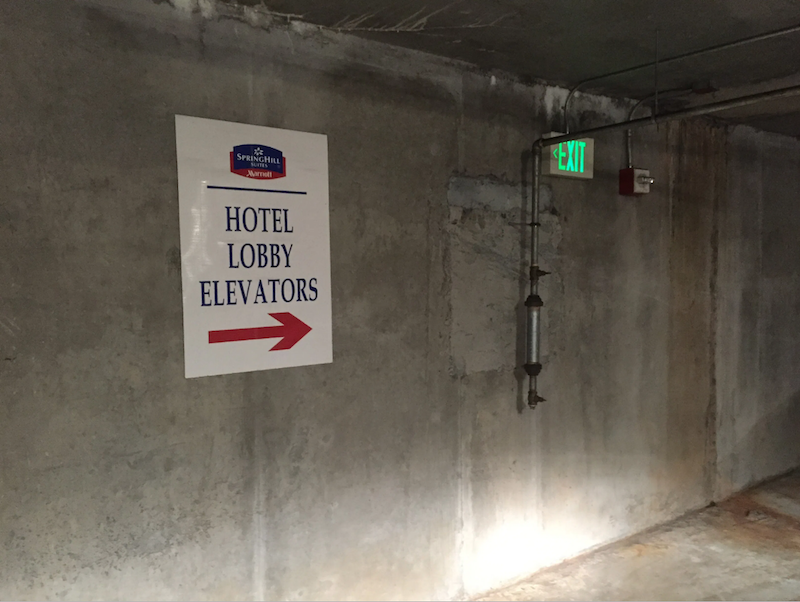 I snapped this photo during a recent hotel stay. In case you can't tell what you're looking at, this is a sign that points sign-followers to…a blank wall. As in: "follow this path, and walk into a slab of concrete."
The real beauty of the sign is that it was spotted at a gathering of guest services practitioners from churches all over the country. We are people who get really geeked out about good signage. But bad signage? Oh man, it was like someone watching the premiere of Star Wars: The Force Awakens and yelling out "Cool! They brought back the Starship Enterprise!" The Star Wars nerds would have beaten them to death with their plastic lightsabers. So as you can imagine, the sign geeks had some fun with this travesty in our hotel.
Now in fairness, when I went back to take this picture, I realized that the sign wasn't necessarily meant for pedestrians like me who were walking through a parking garage. Rather, it was for drivers who were navigating said garage. But the supposed bad signage raised a question:
Where do our church signs point people?
We've all encountered the sign that came with the building, the one that was around to help Noah navigate First Baptist of Ararat once he stepped off of the ark. But because of remodeling, ministry name changes, space reallocation, whatever, the sign no longer points to where it should.
And that's not a problem for our regulars. They know that the sanctuary hasn't been on the east side of the building since '74, and they adjust accordingly. But for your first time guests, bad signage = bad experience.
So here's your homework. (Scratch that. Here's your right now work.) If you work at a church, stand up from your desk. Take five or fifty minutes and walk around your facility. Start on the outside and work your way in. Is your signage current? Visible? Accurate? Spelled correctly? Printed professionally? Put on the first time guest hat and ask the question, "If I didn't know where I needed to go, would this sign get me there?" Some small changes can make a big difference for your guests.
My friend Bob Adams is the sign geek to end all sign geeks. Check out this post that will help you think through this a little more.