Top Ten Quotes: Every Good Endeavor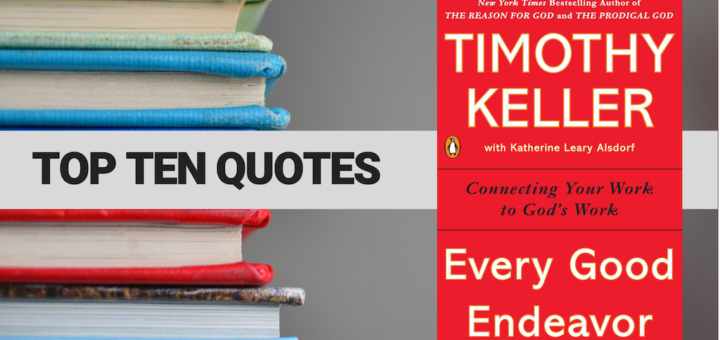 Many of us have a love/hate relationship with work. I am a self-professed workaholic, but even someone like me – who really, really enjoys my job – can get to the end of many days and wonder if I've made any significant difference in the world.
That's why this year's summer reading list had to include Tim Keller's Every Good Endeavor: Connecting Your Work to God's Work. It was a reminder that every act of work can be an act of worship.
---
Here are my top ten favorite quotes:
Everyone imagines accomplishing things, and everyone finds him- or herself largely incapable of producing them. Everyone wants to be successful rather than forgotten, and everyone wants to make a difference in life. But that is beyond the control of any of us.
The fact that God put work in paradise is startling to us because we so often think of work as a necessary evil or even punishment.
…leisure is not the mere absence of work, but an attitude of mind or soul in which you are able to contemplate and enjoy things as they are in themselves, without regard to their value or their immediate utility.
God made the world to need work. He made it such that even he had to work for it to become what he designed it to be, to bring forth all its riches and potential.
You should expect to be regularly frustrated in your work even though you may be in exactly the right vocation.
Work can convince you that you are working hard for your family and friends while you are being seduced through ambition to neglect them.
We must think out the Christian worldview's implications in every field, and often those implications are subtle.
…every act of goodness, wisdom, justice, and beauty—no matter who does it—is being enabled by God. It is a gift, and therefore a form of grace.
Without something bigger than yourself to work for, then all of your work energy is actually fueled by one of the other six deadly sins.
How easy to fall prey to the temptation to believe that they alone are holding up their corner of creation!
---
---
Disclaimer: FTC watchdogs will probably want you to know that the authors represented did not ask for this endorsement, nor did they provide me with free swag in order to do so (unless specifically mentioned otherwise). I'm just a really satisfied customer who wants to let you know where you can get some great products. So there. Further, if you order a resource from a link on any "Top Ten Quotes" page, I may receive a small affiliate commission from Amazon. If that bugs you, feel free to bypass my link and buy from a vendor of your choice. But still: buy it. I only promote books that have benefitted me and that I believe will benefit you.