Top Ten Quotes: The Wisdom of Crowds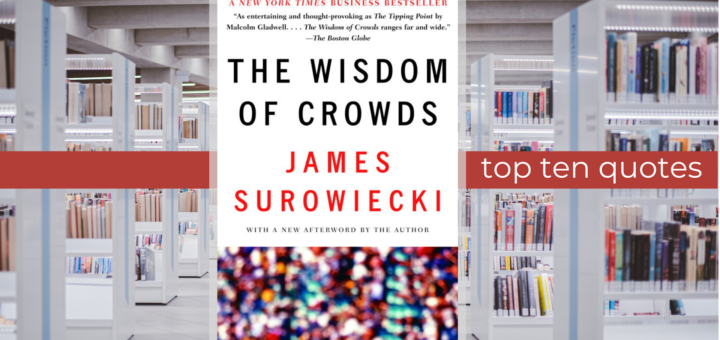 One of the most interesting – and by interesting I mean nerd territory – books that I've read over the last year is James Surowiecki's The Wisdom of Crowds. In it, he posits the idea that all of us are smarter than one of us. Whether we're talking pop culture or military strategy, ant nests or artificial intelligence, the group mind tends to be better at solving problems, making decisions, and getting the right answers to the right questions.
This book is nearly 20 years old, but the applications are still relevant. I put this one on my recommended reading list for your summer beach bag. And while I'm just one brain, I hope that all of your collective brains will prove this to be a smart read.
---
Here are my top ten favorite quotes:
…under the right circumstances, groups are remarkably intelligent, and are often smarter than the smartest people in them. Groups do not need to be dominated by exceptionally intelligent people in order to be smart.
The wisdom of crowds has a far more important and beneficial impact on our everyday lives than we recognize, and its implications for the future are immense.
…the best way for a group to be smart is for each person in it to think and act as independently as possible.
The simplest way to get reliably good answers is just to ask the group each time.
The real key, it turns out, is not so much perfecting a particular method, but satisfying the conditions—diversity, independence, and decentralization—that a group needs to be smart.
…in small groups it's easy for a few biased individuals to exert undue influence and skew the group's collective decision.
[T]rying to find smart people will not lead you astray. Trying to find the smartest person will.
…people are, in general, overconfident. They overestimate their ability, their level of knowledge, and their decision-making prowess. And people are more overconfident when facing difficult problems than when facing easy ones.
…in the absence of trust the pursuit of myopic self-interest is the only strategy that makes sense.
…there is no clear correlation between talkativeness and expertise. (Danny's note: I think I'm gonna slap this one up on my cubicle wall as a self-reminder!)
---
---
Disclaimer: FTC watchdogs will probably want you to know that the authors represented did not ask for this endorsement, nor did they provide me with free swag in order to do so (unless specifically mentioned otherwise). I'm just a really satisfied customer who wants to let you know where you can get some great products. So there. Further, if you order a resource from a link on any "Top Ten Quotes" page, I may receive a small affiliate commission from Amazon. If that bugs you, feel free to bypass my link and buy from a vendor of your choice. But still: buy it. I only promote books that have benefitted me and that I believe will benefit you.