Q&A: How Do I Seat People in a "Full" Auditorium?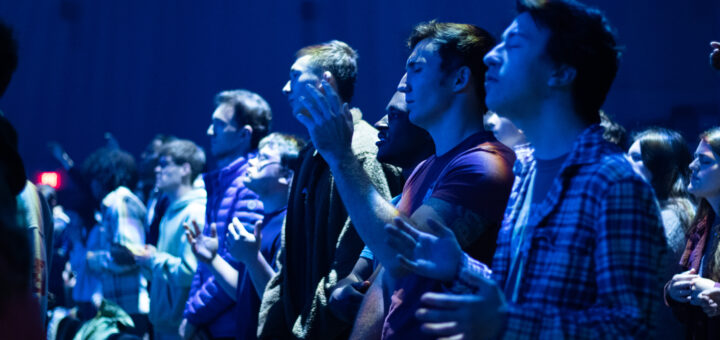 Q:
I would love to get your insight into how to usher people well in a full auditorium situation. We are finding it to be really difficult to fill every seat when people are standing for worship while others are still entering the auditorium.
[Chrissy Kennedy, Connections Director, The Austin Stone West, Austin, Texas]
---
A:
One of my favorite old-school preacher jokes goes something like this:
Q: How many pounds of potatoes can I fit in a five-pound sack?

A: Five.

Q: What if I pray really really hard about it?

A: Still five.
Alrighty, it's not necessarily a knee-slapper, but you get the point: there are some laws of physics that prayer may not always overcome. (And before you send me angry emails: yes, I know about Jesus multiplying the fish and the loaves and his other physics-defying miracles. That's why I said may not always, which is like a get-out-of-heretical-prison-free card.)
I digress.
There are times that an auditorium feels incredibly full. And it may very well be on the way to being actually, totally full. But you know and I both know that "full at first glance" usually translates to a random assortment of single and double open seats scattered around the room.
So how do we effectively seat people in a "full" auditorium? I think there are 6 ways:
1. The best defense is a good offense (part one).
If your auditorium has a tendency to fill up, why wouldn't you control how it fills up? Make sure that you're getting people front and center, so that rear seats and aisle seats are free and clear for people arriving after the service begins.
[Related post: How to Get People to Move Down Front]
2. The best defense is a good offense (part two).
Give your seating team specific spots where they're stationed around the auditorium. They shouldn't be wandering all over the place, but be intimately familiar with their zone and the open seats it contains. That way, even when the congregation stands and the open seats get obscured, they'll still have a general idea of which row has room.
[Related post: 10 Ways to Make Your Seating Team More Effective]
3. Utilize voices from the stage.
Talk to your announcements guy, your worship leader, or whoever it is who can help you out. On the Sundays when you're expecting a capacity crowd, they can make a simple nudge during a transition time: "As we stand to worship, please move in to the center of your row, leaving space on the end for our guests who are still arriving."
In extreme cases (and with the right person who can pull this off), they can even draw it out a bit: "Pick up your Bible. Grab your jacket. Get close to that person you've been trying to avoid. No seriously. We need that spot on the aisle."
4. Have eyes in the sky.
Okay, hang with me for this very Big Brother-ish moment. Many churches have a balcony or an elevated sound booth. Some churches have security cameras mounted up high in the auditorium. What if you take advantage of those spaces and have a spotter who can utilize a headset to let the seating team know where the open seats are? ("Sarah, send that couple to Oscar. Oscar, you have two open seats just behind you and to your right.")
5. Hold them at the door.
This is my least favorite solution, because it causes the most disruption for those seated and potential embarrassment for those arriving. You can always hold guests in the lobby as the congregation inside is standing, then help them find open seats after everyone is seated and the empties are easier to spot.
You know what? I actually hate that idea now that I read it again. Maybe don't do that, and just opt for…
6. Set up an additional venue.
Allow me to indulge in a grumpy old man moment: notice I didn't say "overflow space" because that's a terrible term. You know what overflows? Toilets. And both experiences smell about the same.
Rather, set up an additional venue, a pre-planned, non-emergency-setup space that can livestream the sermon and maybe the worship (though I'd argue if it's pre-planned, let's have a live worship team). You should also have a live venue host, who mirrors the announcements from the auditorium, but also adds some grace-filled thanks for our guests who had to redirect their Sunday plans.
[Related post: How to Prepare an Additional Venue for Easter]
What are your tried-and-true methods for filling a full auditorium?
---
photo credit: Marie Obando