Top Ten Quotes: From Strength to Strength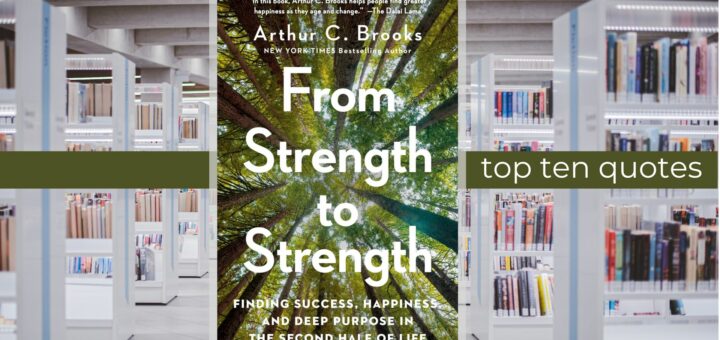 For the last couple of years I've been on a bit of a "next stage" kick. Maybe it's becoming a Pops, maybe it's turning 50 earlier this month, maybe it's that I keep running into friends from childhood and they all look so terribly decrepit.
Thankfully, I have managed to avoid convertibles, combovers (hard to comb it over when there ain't nothing to comb), and gold chains. But the next stage kick has led me down a rabbit hole of various books like Chip Conley's Wisdom at Work, Bob Buford's Half Time, and more personal titles like Grandparenting with Grace.
One of the most enjoyable – and challenging – books on the list has been Arthur C. Brooks' From Strength to Strength: Finding Success, Happiness, and Deep Purpose in the Second Half of Life. Caveat #1: the first 50 pages are not for the faint of heart. Brooks is like a boot camp drill sergeant: he breaks you down, makes you cry, and says horrible things about your mama. But then he helps those of us of (clears throat) a certain age figure out what to do as we navigate this new stage.
Caveat #2: Brooks describes himself as a Roman Catholic convert, raised in a Protestant home. And he freely inserts a lot of Eastern, mystic, and secular philosophies in his work. There are things to reject in From Strength to Strength, to be sure. But on the whole, I found this to be a helpful book to get my head wrapped around the second half.
---
Here are my top ten favorite quotes:
…you know intellectually that you can't keep this party going forever, and you might even already see the signs that it is coming to an end. Unfortunately, you never gave much thought to the party's end, so you only really have one strategy: Try to keep it going. Deny change and work harder.
When you are young, you have raw smarts; when you are old, you have wisdom. When you are young, you can generate lots of facts; when you are old, you know what they mean and how to use them.
Working harder doesn't work.
Résumé virtues are professional and oriented toward earthly success. They require comparison with others. Eulogy virtues are ethical and spiritual and require no comparison.
…you look at how people lived, loved, and worked in their twenties and thirties, and then you can see how their lives turned out over the following decades.
…the single most important trait of Happy-Well elders is healthy relationships.
…if your life goals revolve around lots of money, prestige, and other worldly things, you are setting yourself up to have exploding wants and low life satisfaction.
When you spend serious time and effort focused on transcendental things, it puts your little world into proper context and takes the focus off yourself.
[T]he central characteristic of the universe—change—is the thing with which we are most uncomfortable.
…love is reserved for people, not things; to misplace your love is to invite frustration and futility—to get on the hedonic treadmill and set it to ultra-fast.
---
---
Disclaimer: FTC watchdogs will probably want you to know that the authors represented did not ask for this endorsement, nor did they provide me with free swag in order to do so (unless specifically mentioned otherwise). I'm just a really satisfied customer who wants to let you know where you can get some great products. So there. Further, if you order a resource from a link on any "Top Ten Quotes" page, I may receive a small affiliate commission from Amazon. If that bugs you, feel free to bypass my link and buy from a vendor of your choice. But still: buy it. I only promote books that have benefitted me and that I believe will benefit you.