Jen Hatmaker Ruined My Marriage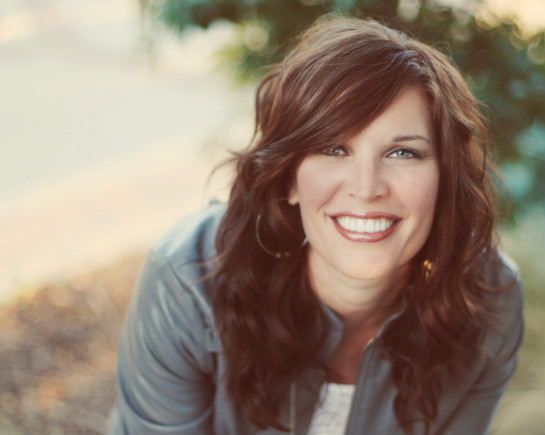 Gather 'round children: I'm about to spin a tale that exposes the seedy underbelly of hip 70's kids evangelicalism. For the last several weeks, husbands everywhere have been laid bare to a terror so insidious, so awful, so freakishly terrible, that I can't bear to tell it.
But tell it I must, because you must know. And knowing is half the battle.
My wife is a fangirl of one Jennifer Hatmaker. If you're not familiar with this ringleader of Christian OnlineMamaCulture, Mrs. Hatmaker authors a blog that is followed by roughy 9 billion of the 3.5 billion women on the planet. She's a gifted speaker. She's into adoption. She's a pastor's wife. And according to my wife, SHE'S SO FUNNY. Many a night I will be sitting in my chair in the living room, minding my own business, when I hear a snort of laughter explode from behind my bride's laptop.
"You…" she wheezes, "You just have to read Jen Hatmaker's blog today. SHE IS SO FUNNY."
Never mind the fact that I also author a blog and I have been called funny on occasion and I am actually sitting in the same room with her and I am the one person that she repeated marital vows to 21 years ago. But after six years of writing said blog, I'm 96% positive that (a) my wife has never read it or (b) possibly even knows that it exists. Oh sure: she links to the Hatmaker blog on Facebook and she tells all her friends about the Hatmaker blog and if she weren't so afraid of needles she would have quotes from the Hatmaker blog translated into Hebrew and inked onto her forearms because little Miss Hatmaker is SO FUNNY.
Not that I'm bitter.
But friends, this is not about me. This is about the aforementioned person who is SO FUNNY. Several months ago Jen (she and Merriem…they're on a first name basis) announced that HGTV had selected their family to be the stars of a new reality show that would feature a renovation of a century old farmhouse in Buda, Texas. The name of the show is My Big Phat Hilariously Funny Farmhouse Renovation That Will Tick Off Husbands Everywhere, or something like that. There are only eight episodes, but to my spousal brain this may as well have been CSI: Buda because in my heart of hearts I knew it would never, ever, ever end.
Ever.
The reason Jen's announcement set off all sorts of alarms in my brain is that I knew what lay ahead: my wife would become immediately engrossed in the development of the show and the renovation of the farmhouse, cozying up to the TV with her bag of popcorn every Thursday night at 11 PM (let's not even address the fact that she never knew 11:00 came twice a day before this evil show appeared) and before I knew it, she would have grand plans for us to buy a farmhouse and us to do a renovation and us to live happily ever after while the credits rolled and our family said the blessing around our vintage 1918 handcrafted farm table made from reclaimed wood we found in the loft of a barn off the side of the interstate.
And that's exactly what happened.
Never mind the fact that changing an air filter is a major accomplishment for me that is always followed by high fives and maybe a trip to Starbucks. Never mind the fact that we have not one, not two, but three ceiling fans sitting in our garage, still in the boxes from when we bought our house two years ago, because I am deathly afraid of any home improvement project that involves anything more than a phillips screwdriver and a staple gun. Never mind that we almost have to go through marriage counseling when it comes time to detangle Christmas lights. Never mind all of that stuff, because Mrs.-SO-FUNNY!-Wonder-Woman-Whom-We've-Never-Met has convinced my bride through the power of reality TV that we can do it! 
Jen's husband Brandon is a motorcycle riding, goatee sporting pastor who is handy with tools (we have one of four things in common). As I watch him chisel down a fireplace and sand down a door frame and install a fireman's pole for his daughter so she can slide down from her loft bed that he slapped together in twelve minutes, I realize that it is indeed possible to loathe someone for no good reason. And all the while Merriem watches Jen who is wearing an adorable scarf and squealing with childlike delight over the fact that OH MY GOSH Y'ALL WE JUST FOUND AN ATTIC FAN IN THE ATTIC AND I KNOW JUST THE PLACE FOR IT!
(Hey Jen, how about in the attic? That thing was buried under a blanket of dehydrated rodent jerky. Let it rest in peace. Just a thought.)
Every week, multiple times during each episode, I hear "Danny, we have to do this!" I remind Merriem that I don't own a chisel. "But look at how CUTE that is!" And I remind her that it won't look that way for us. "But my daddy could help you!" And I remind her that he still distrusts me as a man because I don't habitually use synthetic oil in my ten year old car.
She tells me it's adorable. I tell her it's hard work.
She tells me they're saving a lot of money by doing it themselves. I tell her they have a renovation budget because Jen has lots of blog sponsors and income-producing books that are SO FUNNY.
She tells me it's not as bad as I think it would be. I tell her about divorce court.
I put in my earbuds. She snaps her fingers and yells "I know you can hear me. LOOK AT THAT CUTE PAINT COLOR!"
I try to go to bed. She makes me watch it on DVR the next night.
I secretly wish that if Jen were going to be on a reality show, it would be as a special guest on Shark Week, but without a protective cage, if you get my feeding frenzy drift. The Holy Spirit whispers to my heart how very, very wrong that is.
The final episode airs this Thursday night, and I know my beloved will be both ready to see the final product and grieved that it's all over. I, for one, will be thrilled that this terrifying chapter of American evangelical reality television will be behind us.
At the end of the day, I know that we won't buy a farmhouse. I know that the biggest renovation that will happen this year is that I might get around to painting the mailbox post. I also know that somehow I'll find a way to screw that up and there will be a praying mantis permanently entombed in the dried paint, looking like a very skinny, bulbous-eyed Han Solo.
Jen Hatmaker, if you ever stumble across this post, I want you to know that I wish you no ill will. You bring great joy to my wife. She lives vicariously through your style ("I LURVE her style!"). She wants to be like you when she grows up. As for me, I've actually read and linked to your blog on occasion, and it is indeed SO FUNNY. Your end-of-the-school-year post from a while back is still one of the best things Merriem ever made me read. I don't despise you. I just despise the nightmare that my Thursday nights have become, and all of the misery points back to your totes adorbs farmhouse.
Tell Brandon I said 'sup, and that attic fan ended up lookin' really good.
You might also like: