2022 Year in Review: Books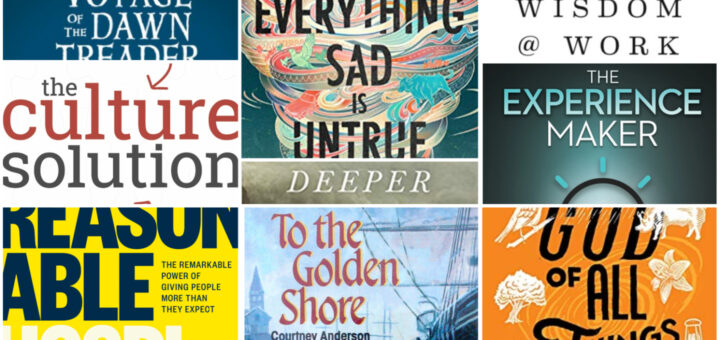 Earlier I shared the top ten most-read and / or personal favorite blog posts of 2022. Today we turn our attention to everyone's favorite list: the top ten reads of '22.
If you've been around here for a while, you know that I set a time goal for reading: a minimum of thirty minutes per day. If you want to know more about that process and read more in '23, here's a post on that.
But for now: my favorite books of the last 12 months. See 'em all on Amazon (and use up that Christmas gift card that's burnin' a hole in your pocket!), and check my commentary after the jump.
(Michael Bungay Stanier) This is a great book to kick of your leadership year. I fully intend to revisit it sometime in the next twelve months. (Top Ten Quotes post)
(Greg Lukianoff, Jonathan Haidt) For leaders and parents of all ages, this is a really compelling read on how we're failing the next generation.
(Matthew Kelly) I found myself quoting this again in again in both formal and informal gatherings. Such a great dive into how to change the world you work in. (Top Ten Quotes post)
(Dane Ortlund) Gentle and Lowly took the world by storm, and Ortlund's Deeper was another convicting, comforting work.
(Daniel Nayeri) A friend called this "one of the top three books" she's ever read. While I may not go that far, I will say it's one of may favorite books ever…definitely in the top 20. And it's my top pick for you this year. Get it. Nayeri is a masterful storyteller.
(Dan Gingiss) Another book that I shared, pulled from, and quoted all over the place. (Top Ten Quotes post)
(Andrew Wilson) This was my top devotional pick for 2022. Wilson is a delightfully cheeky UK pastor, and this book caused me to worship. (Top Ten Quotes post)
(Courtney Anderson) I'd never read the seminal work on Judson. While this is a lengthy read, it's so good and hard to put down.
(Will Guidara) One of my more recent reads this year is also one of my favorites. I think guest services leaders of all stripes will love this one. (Top Ten Quotes post)
(Chip Conley) As I hit a (clears throat) certain age, I'm starting to think about what leadership looks like in this season. Conley nails it, I think. (Top Ten Quotes post)
(J.R.R. Tolkien) This one gets an honorable mention because (a) it's #11 on a top ten list and (b) I've read it before. But I think I enjoyed it even more this time, and even got my middle school daughter in on the fun.
(C.S. Lewis) Honorable mention for the same reasons above, but my goodness. 11 year old Danny simply didn't appreciate the beauty of the end of this book. I'm not ashamed to tell you I cried when Reepicheep reached Aslan's Country. (oops. Spoiler alert. But come on…the book is 70 years old.)
That's my list. But I'm curious: what were your favorite books this year? Comment below.
---
Disclaimer: FTC watchdogs will probably want you to know that the authors represented did not ask for this endorsement, nor did they provide me with free swag in order to do so (unless specifically mentioned otherwise on the particular page). I'm just a really satisfied customer who wants to let you know where you can get some great products. So there. Further, if you order a resource from a link on any "Top Ten Quotes" page, I may receive a small affiliate commission from Amazon. If that bugs you, feel free to bypass my link and buy from a vendor of your choice. But still: buy it. I only promote books that have benefitted me and that I believe will benefit you.